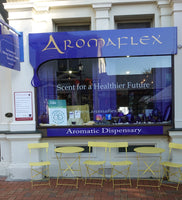 We are a destination place
Aromaflex is New Zealands only Aromatherapy shop.
You can smell the aromas outside on the street, before you walk in. This is due to the years of essential oil diffusion that has taken place over so many years.
These aromas can easilly draw you into the shop, before you even realise it. When you walk inside, you may be captivated by all the blue bottles that line the walls, with the lovely glass mirrors that showcase the array of aromatherapy products beautifully.
Another way to think of the shop, is that you are entering a beautiful garden, except the plants are captured in beautiful blue glass bottles.
The Aromaflex Experience is unique to everyone. You can save your own blue bottles and bring them back to the shop to be refilled, or you may like a personalised blend, made just for you.
Contact
NELSON
280 Trafalgar Street
Nelson, 7010
New Zealand
Enquiries: info@aromaflex.co.nz
Telephone: +64 3 545 6217
Shop Hours: (Winter)             
9.30 am - 4.30 pm Monday to Friday
10.00 am - 2.00 pm Saturday.
Contact Form